ready mixed concrete concrete mixer with pump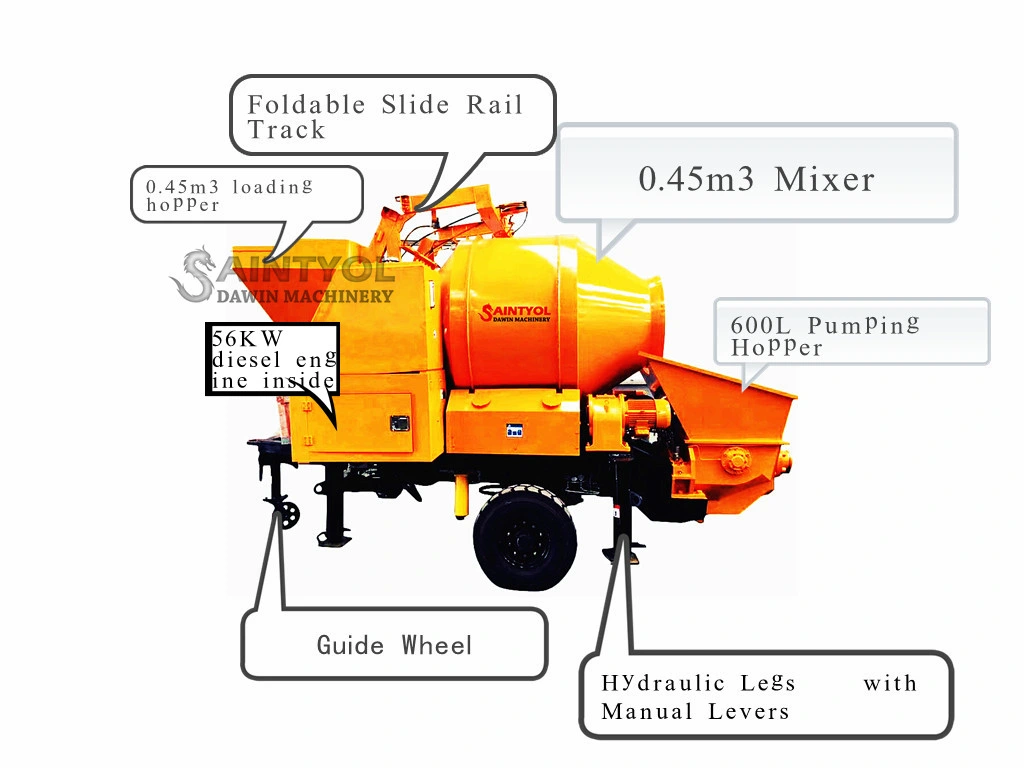 Concrete Pump with Concrete Mixer In One Machine for sale is the newest products patented by our company, it is combined by thetraditional concrete pump and the mixer together, it is the most suitable for usein four to six floor buildings,especially in the group buildings, bridges, and the spread of small construction sits where need theconcrete mixer at the scene.
Concrete mixer with pump into one body, simple to operate, easy to move, flexible, and stable performance. The pump construction operation system used in all automated, all material mixing, high pressure pumping as one; Double cylinder hydraulic pumping system, hydraulic system greatly enhance the the stirring Concrete pump overall reliability ensure pump strive foolproof work under harsh conditions.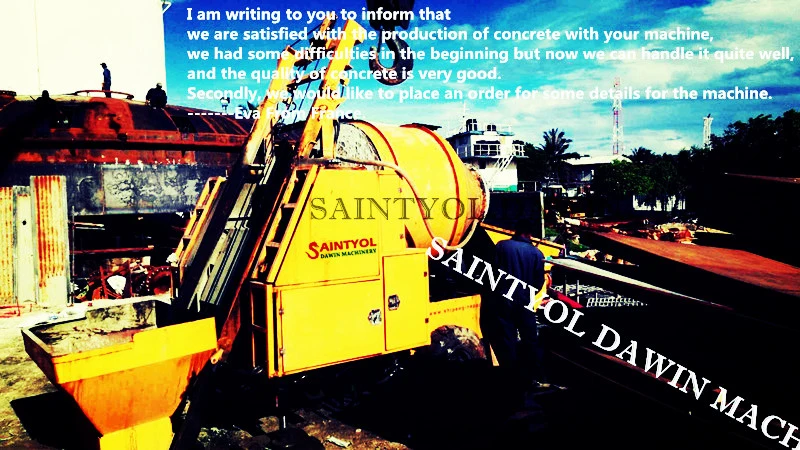 Technical Parameters :

Diesel Model: DJBT40-11-56 Concrete Mixer with Pump:
Item
Unit
Parameter
Concrete pump
and mixer

Max. theoretic concrete delivery volume

m³/h

40

Max. theoretic delivery pressure

MPa

11

Max. delivery frequency

times/min

26

Type of distribution valve

S tube valve

Main oil cylinder specification: cylinder dia./role dia.× stroke

Mm

Φ100×700

Diameter of delivery cylinder

Mm

Φ180×700

Hopper capacity

L

600

Discharging height

Mm

1070

Output opening diameter

Mm

150

Pipeline inside diameter

Mm

125

Mixing drum

L

450L

Power system

Rated power of pumping diesel engine

KW

56 (LOVOL 1004-4)

Revolution

r/min

2200

Hydralic system

Type of Hydraulic oil circuit

Open circuit

Maximum oil pressure of main system

MPa

28

Max. mixing speed

r/min

42

Hydraulic oil tank volume

L

420

Other parameters

High and low pressure switch

Equipped

Procedure-control electric lubricating system

Equipped

Concrete slump range

mm

80~200

Allowed pumping maximum aggregate size
(standard concrete)
Pebble 50mm
rubble 40mm


Dimensions (L × W × H)

mm

4960×2050×2800mm

Max. delivery distance
I

horizontal

560m

vertical

160m

Weight

Kg

5000

Towing speed

Km/h

≤8
Electric Model: DJBT40-11-56 Concrete Mixer with Pump:
Item
Unit
JBT40



Pumping system




Theoretic output

m³/h

40




Theoretic outlet pressure

Mpa

11



Theoretic delivery height

m

150




Theoretic delivery distance

m

450




Pumping frequency

/min
times/min

20




Distribution valve

S
S pipe valve

Concrete cylinder spec.
(inner dia. x stroke)

mm

Φ180×1000

Oil cylinder spec.
(outer dia. x inner dia. x stroke)

mm

Φ100×1000



Outlet diameter

mm

Φ150




Delivery pipe inner diameter

mm

Φ125




Hopper volume

L

600




Rated voltage

V

~380




Main motor power

Kw

45



Hydraulic circuit type




open




Main system max. oil pressure

MPa

32



Distributing system pressure

MPa

20




Mixing system oil pressure

MPa

12




Max. Mixing speed

r/min

30




Oil tank volume

L

200




Max. aggregate diameter

mm

Pebble40 mm
Rubble 30mm



Concrete slump scope

mm

15-20

(××)
Outer dimension
(L*W*H)

mm

5112×2091×2800




Weight

Kg

4800




Mixing system




Mixing volume per time

m³/
m³/time

0.45




Mixing volume per hour

m³/h

20



Mixing motor power

Kw

4×2=8




Lifting motor power

Kw

4.5




Water pump power

Kw

0.55




Vibrating motor power

Kw

0.5
Saintyol DAWIN Concrete pump with Mixer Features:
The perfect combination of mixing and pumping, it's a one new equipment gathering function of lifting gravel material, mixing, and pumping, the whole process completed by an operator, significant saves in labor costs, at least saves 3-4 name labors for the construction, and efficiency can be increased 4-6 times;
Conveniently and flexibly moving, very suitable for removing between the multi-site work.
High output pressure, can meet high-rise buildings and the constructions of long-distance transport requirements.
Apply for advanced S valve to change direction, better meet to transfer the fine aggregate concrete.
Have Suction pumping function to minimize pipe blockage.
Electrical part adopts PLC control, with the best handling characteristics.
Glasses plate and cutting ring with high hardness wear-resistant alloy material and longer life.
With automatic centralized lubrication system, greatly extending the life of rotating parts.
Hydraulic cooling using advanced air-cooling system, no need water, easy to use.
Friction between the rollers by a gear wheel, reliable non-skid.
Electric cabinet equipped with a wireless remote control handle, easy to operate.

Saintyol DAWIN Machinery Concrete Pump With Mixer Main Parts: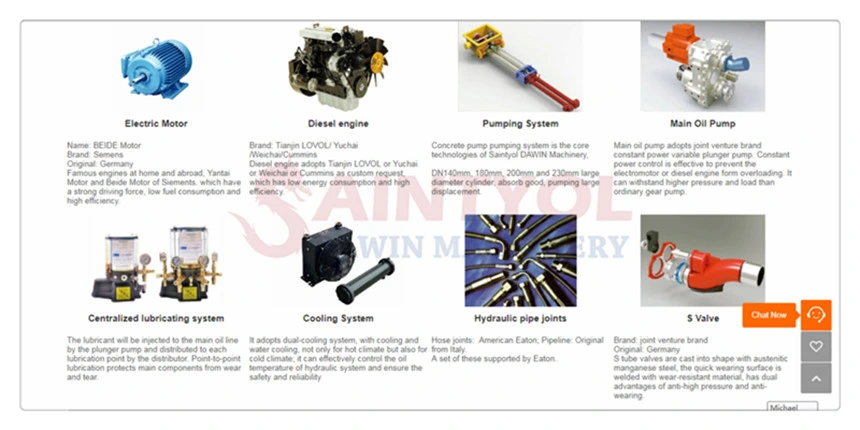 Package & Shipping :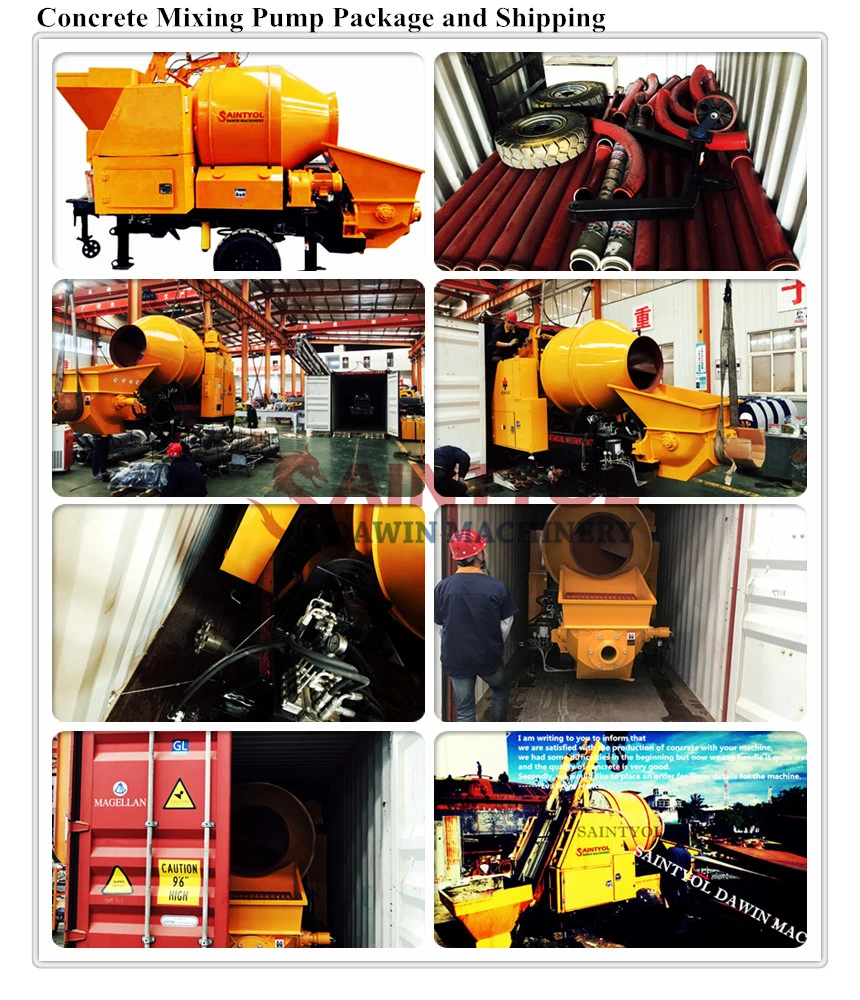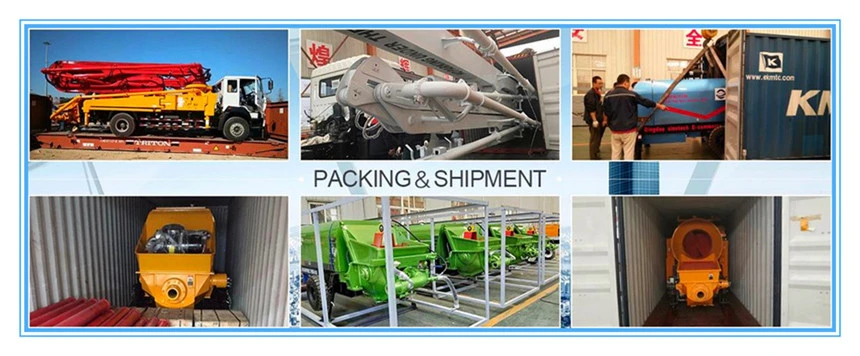 FAQ:
Q: How many kinds of trailer concrete pumps you have?
A: We have all kinds of concrete pumps such as small models with capacity 20, 25, 30, 40m3/h, medium models with capacity 40, 50m3/h, large models with capacity 60, 80m3/h.

Q: Do you have concrete placing booms that could be working together with concrete pump?
A: Yes, We have below series.
1: 13/15/17m Manual Mechanical Spider Concrete Placing Booms
2: 13/15/17Mobile Hydraulic Spider Concrete Placing Booms
3: 29/33m Floor Climbing Type and Elevator Well Shaft Climbing Concrete Placing Booms (Tubular Column)
4: 21/24/28/32 Elevator Well Shaft Climbing Concrete Placing Booms (Mast Section)

Q: What is the configuration?
A: For exporting, most of the components are world famous top brands such as LOVOL, DEUTZ, Siemens, Rexroth, Kawasaki, Schneider, Omron, LG, Eaton, Manuli, Parker etc. The configuration could be customized according to client's requirements.

Q: Is engineer available for training and after sales service?
A: Yes, our oversea engineers team are standing by for oversea service. Some engineers could speak English.
Job Site Performance: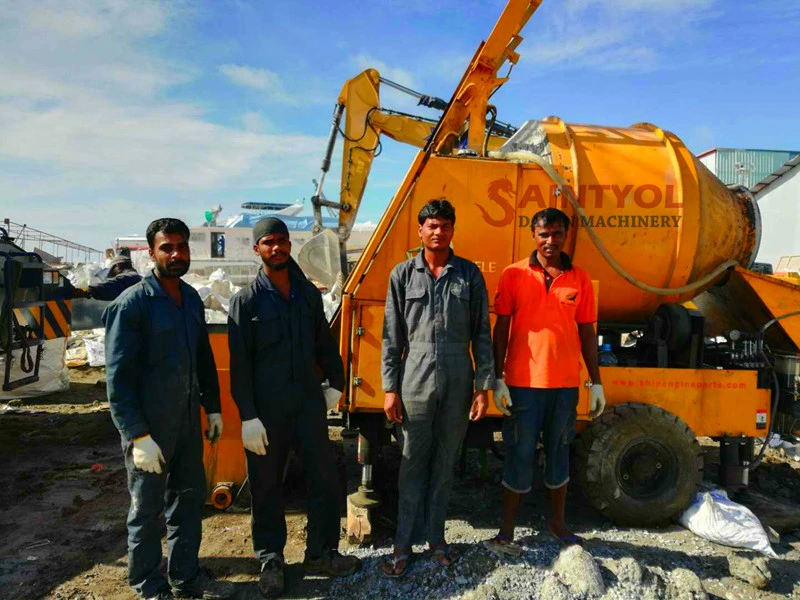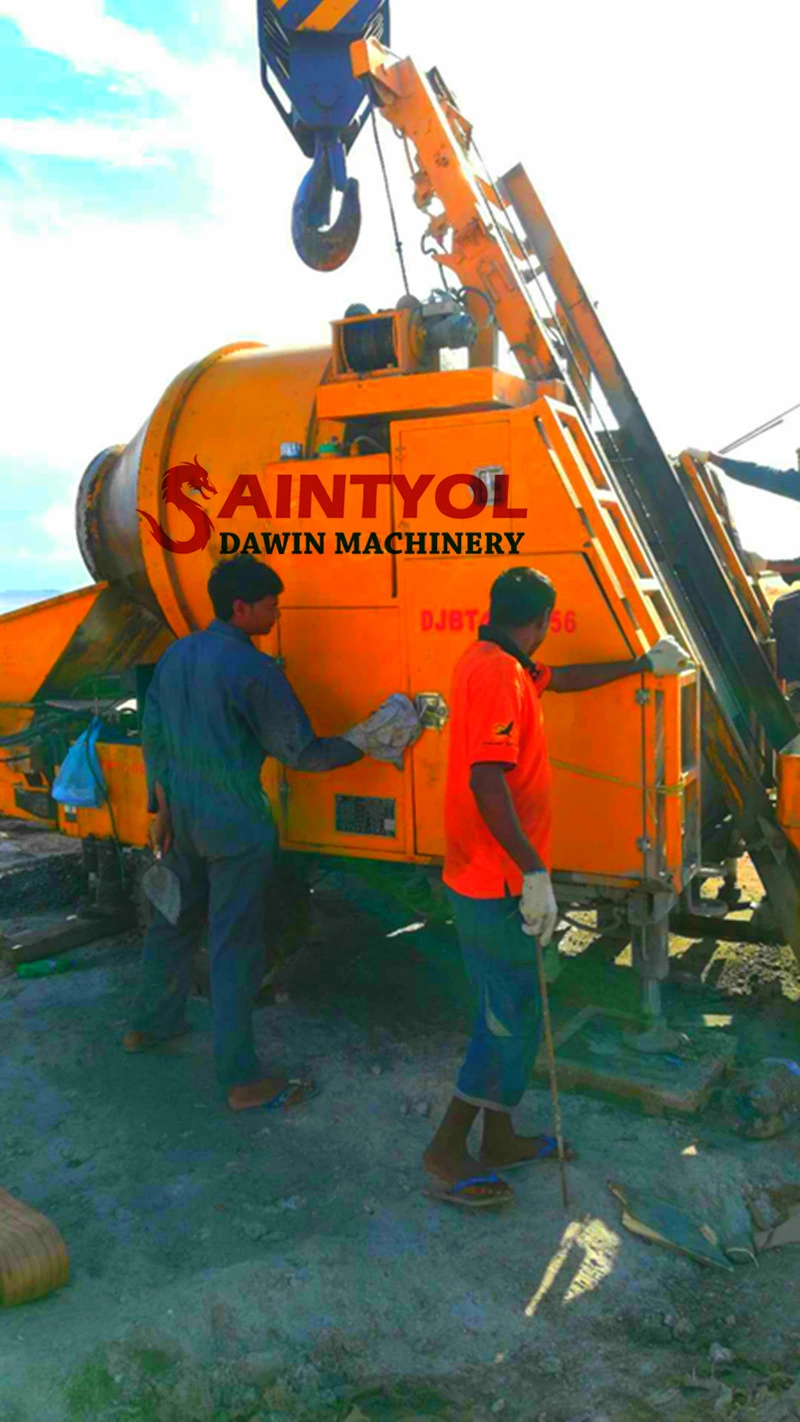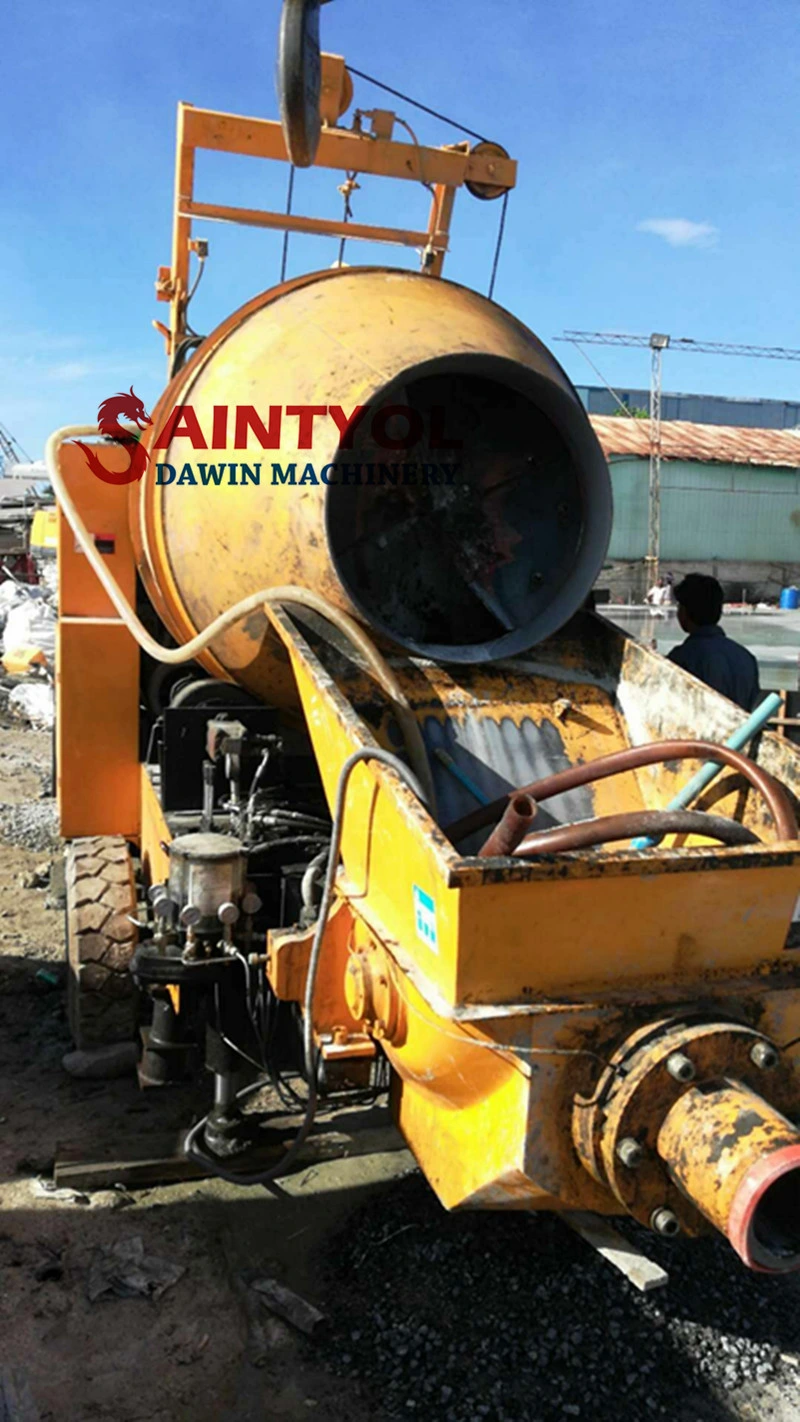 Friends Visits: