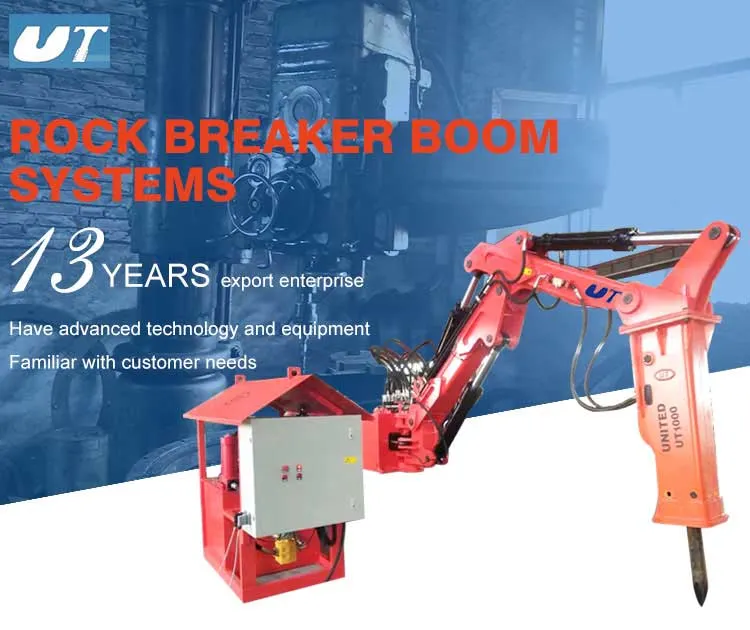 Stationary Type Rock Breaker Boom System
B Series Light Type Booms B
| | | | | | | |
| --- | --- | --- | --- | --- | --- | --- |
| Item/Model / | Unit | UTBB300 | UTBB400 | UTBB500 | UTBB550 | UTBB600 |
| Weight | Kg | 2880 | 3550 | 3750 | 3900 | 4000 |
| Power of motor | KW | 18.5 | 30 | 30 | 35 | 35 |
| Max. coverage range (M) | M | 4.7 | 5.8 | 7 | 7.5 | 8 |
| Max.horizontal reach (H) | M | 3.2 | 4.3 | 5.6 | 5.9 | 6.5 |
| Max.vertical reach (V) | M | 3.3 | 4.6 | 5 | 5.3 | 6 |
| Swing | ° | 170 | 170 | 170 | 170 | 170 |
| Weight of hydraulic Breaker | KG | 200-500 | 400-1000 | 400-1000 | 500-1200 | 500-1200 |
Specifications are subject to change without notice
BH Series Heavy Type Booms BH
Item/Model /
Unit
UTBH300
UTBH500
UTBH630
UTBH700
UTBH850
UTBH960
Weight
Kg
5520
6450
6850
7350
7750
7950
Power of motor
KW
37
45
45
45
45
45
Max. coverage range (M)
M
4.9
6.7
7.5
9.3
11
12
Max.horizontal reach (H)
M
3.4
5.0
5.8
7.4
8.9
9.5
Max.vertical reach (V)
M
3.3
3.8
4.2
5.5
7.5
6.0
Swing
°
170
170
170
170
170
170
Weight of hydraulic Breaker
KG
1000-2000
1000-2000
1000-2000
1000-2000
1000-2000
1000-2000
Control System
Hydraulic operating rod (wired remote control and wireless remote control optional)
Specifications are subject to change without notice
BHZ 360°Series Rotary Type Booms BHZ 360°
Item/Model /
Unit
UTBHZ300
UTBHZ400
UTBHZ500
UTBHZ600
UTBHZ700
UTBHZ960
Weight
Kg
4520
5930
6750
7300
7900
8350
Power of motor
KW
37
45
45
45
45
45
Max. coverage range (M)
M
4.7
5.8
7.0
7.5
8
12
Max.horizontal reach (H)
M
3.2
4.3
5.6
5.8
6.3
9.5
Max.vertical reach (V)
M
3.3
4.6
5.0
5.2
5.8
6.0
Swing
°
360
360
360
360
360
360
Weight of hydraulic Breaker
KG
200-500
400-1000
700-1500
700-1500
700-1500
700-1500
Control System
Hydraulic operating rod (wired remote control and wireless remote control optional)
Specifications are subject to change without notice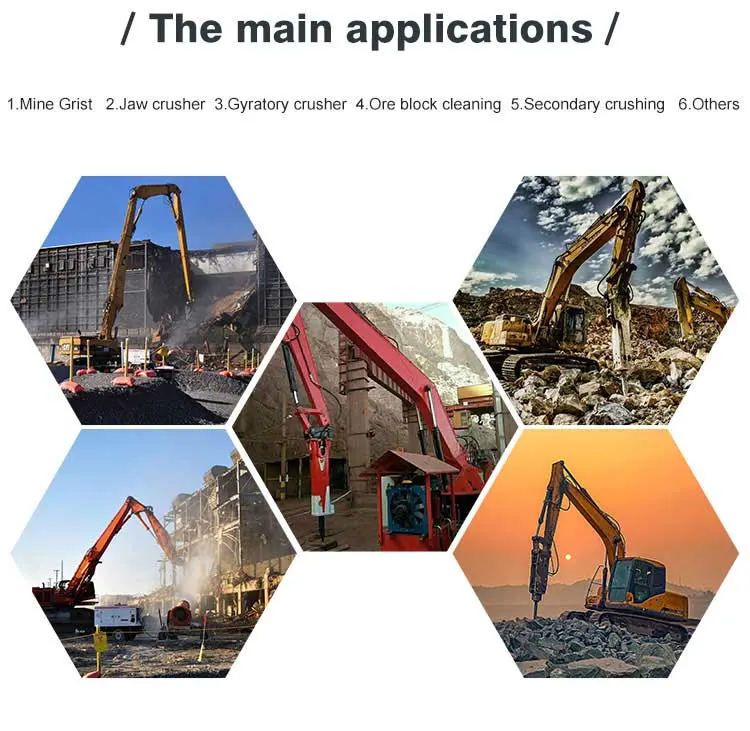 A.USES FOR PRIMARY JAW CRUSHERS AND IMPACT CRUSHERS.
Lighter types of rock breaker boom systems are used for primary jaw crushers or impact crushers, with smaller hydraulic hammers capable of breaking extremely hard and abrasive large rocks. The rock breaker boom system is used to break up oversized pieces in the crusher or to free up the transport routes to the crusher.
B. USES FOR PRIMARY GYRATORY CRUSHERS
Large and powerful rock breaker boom systems with large hammers constructed for continuous and heavy operation are intended for primary gyratory crushers. They are used to break up oversized pieces of crushed material or to free up caving (vaults) in the crusher.
C.USES FOR MOBILE CRUSHER
In the case of mobile crushers small rock breaker boom systems are used which are fitted directly to the structure of the mobile crusher.
D.USES FOR CRUSHING ON GRID (GRIZZLY)
For this type of crushing a rock breaker boom system with a suitably massive structure and a powerful and strong hammer which crushes the rock on a horizontal grid with defined opening sizes is used. This is primary crushing under continuous operation.
Contact Informations:
| | |
| --- | --- |
| Contact Person: | Polly Yang |
| Web Site: | uttrailerparts.en.made-in-china.com |
| | |
| Office Phone | +86 0531 88060927 |
| Fax | +86 0531 88065175 |