JAC Aerial Platform Working Truck Hydraulic Lift Boom Truck Aerial Work Platform Trucks
JAC Aerial Platform Truck, also called Aerial Working Bucket Truck, Aerial Man Lift Truck, Aerial Platform Truck, Aerial Bucket Platform Truck, Hydraulic Lift Truck, Aerial Hydraulic Lift Truck

The Aerial Bucket Working Truck has 2-3 folding arms and provides temporary access for people or equipment to inaccessible height areas. The arm shaft is compact,flexible and large operating range. Four hydraulic supporting legs are used for the platform and have large span and good stability, which can be stretch out and draw back both independent.
JAC Hydraulic Boom Lift Truck is mainly used for municipal engineering, municipal works, streetlight repair and maintenance, garden works, hotel decoration, building engineering work, electric power works, factory, large exhibition hall etc. And it is high efficiency and great performance with good safety.
The aerial bucket platform working height can reach to 12 meters, 14 meters, 16 meters, 18 meters, 20 meters, 22 meters.

The available chassis brands are ISUZU, SINOTRUK, DONGFENG, FAW, FOTON, JAC, JMC, HYUNDAI, etc.
Contact me through Tel for more details: 0086 13247136689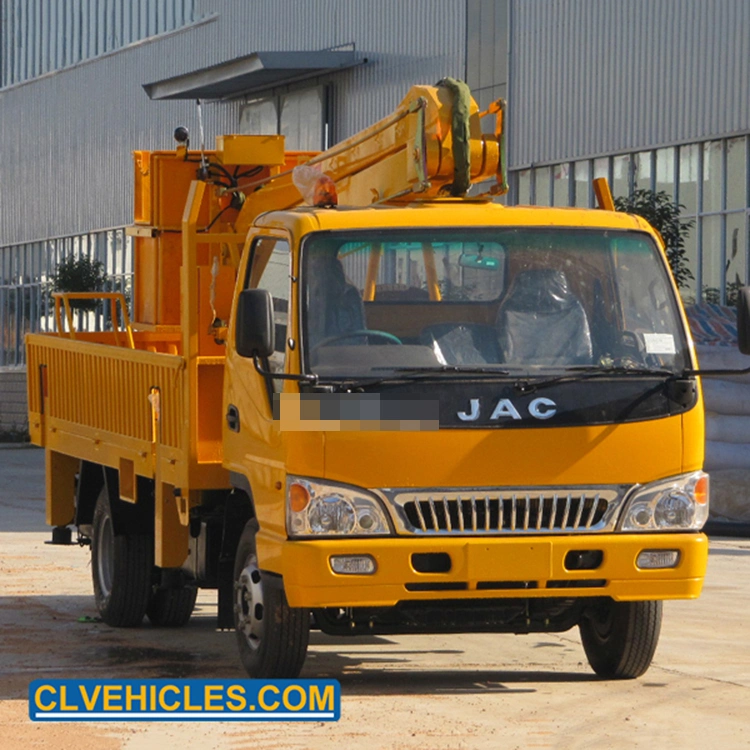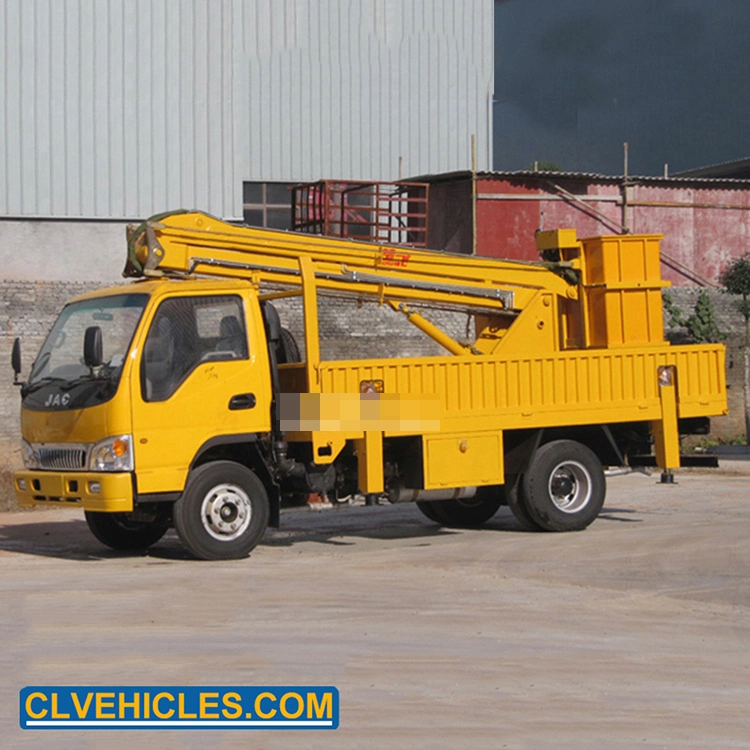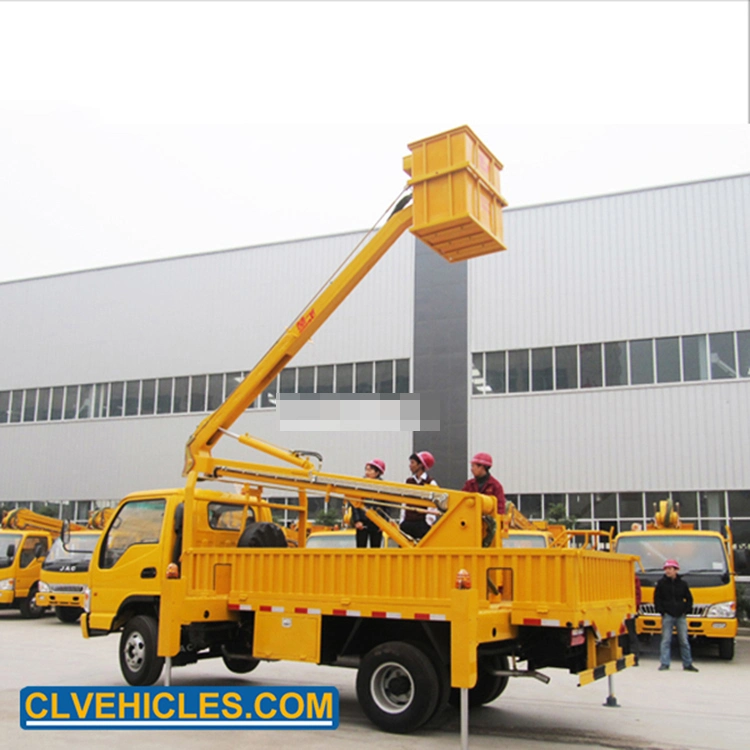 Chassis Specification

Truck model

CLW50

50JGKJAC18F

Cab

JAC single row seats

Driving Type

4*2

Right

hand driving

Max Speed (km/h)

9

0

Overall dimension

(

mm

)

7

80

0

*

20

8

0

*2920

GVW

(

kg

)

Appro. 5990

Mass in working order

(

kg

)

Appro. 5160

Wheelbase

(

mm

)

3360

F

/

R track base

(

mm

)

1

610

/1

550

F/R overhang

(

mm

)

10

65

/

2125

Approach/Departure Angel

2

7

/1

5

Tire

215/75R17.5

Clutch

Single-plate dry diaphragm spring clutch

Steering

Hydraulic steering with power assistance

Gear box

LC6T450M1

Bridge

Front axle

2

T

Rear axle

3

T

Engin

e

Brand

CUMMINS

Model

B125 33

Fuel Type

Diesel fuel

Emission Standard

Europe III

T

ype

Water-cooled four-stroke,

supercharged

inter-cooling

Exhaust

(

ml

)

3900

Max output power/rotate speed (hp /rpm )

125

/

2550

Max torque/rotate speed

(N.m/rpm)

410/1500

Braking

S

ystem

Service Brake

Air

brake

Park Brake

Spring energy

Ele

c

tric system

12V

Special Function

Working height (m)

1

8

Max working radius (m)

Boom

type

Three

section

s

folding working boom

Rated loading in the bucket(kg)

Bucket size

(

mm

)

Rotating speed (r/min)

Rotation Angle

Supporting leg

Boom Control mode

Supporting leg Control mode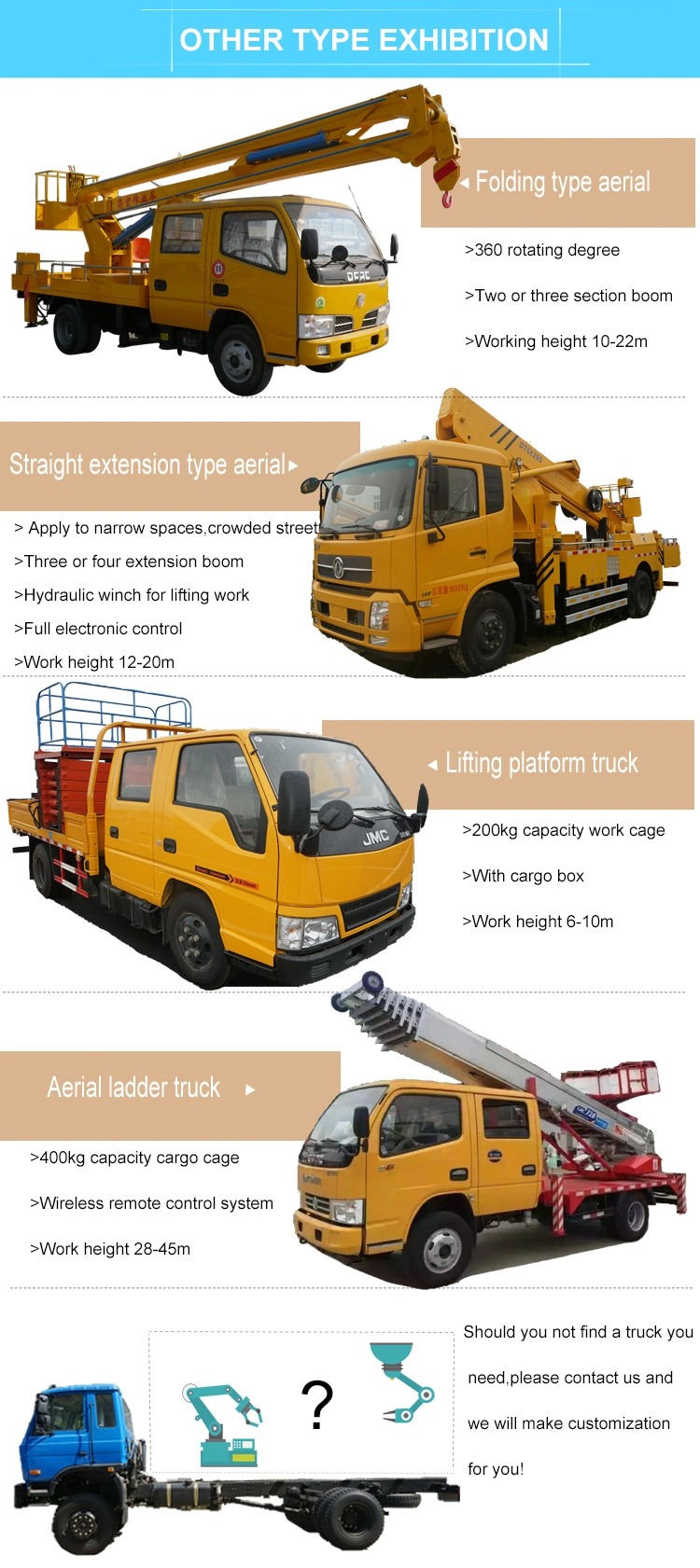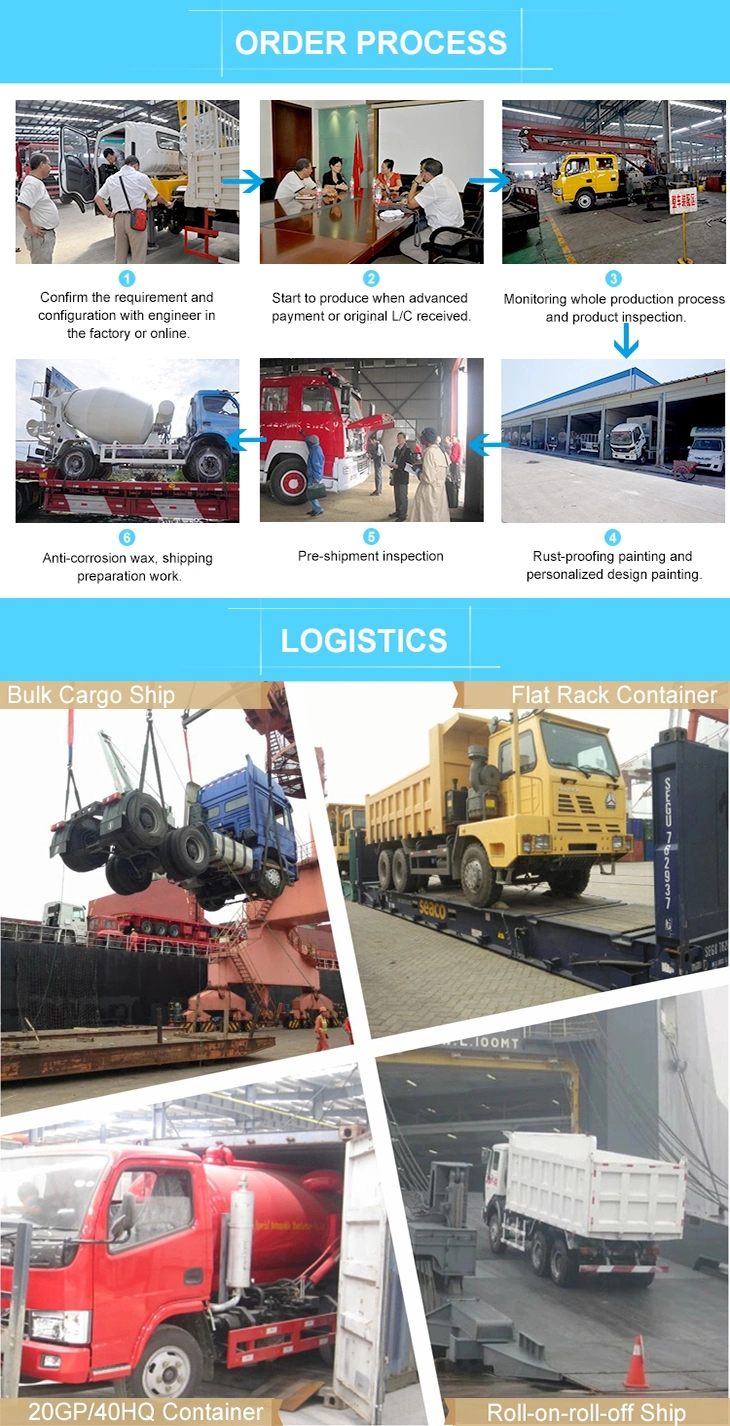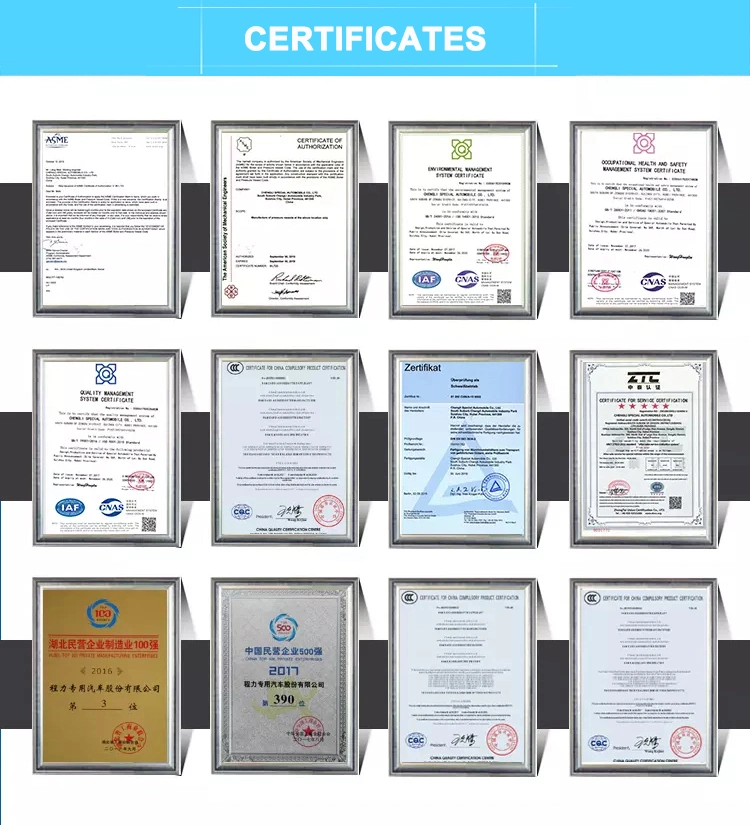 Hydraulic Boom Lifting Truck/ Aerial Platform Working Truck/ Aerial Bucket Working Truck/ Boom Lift Working Truck/ Aerial Platform Bucket Truck/ Bucket Truck/ Hydraulic Aerial Bucket Lifting Truck/ Aerial Working Truck/ Boom Lift Truck/ Hydraulic Boom Lift Aerial Work Truck/ Boom Lift Aerial Bucket Truck/ Aerial Bucket Truck/ Boom Lifting Bucket Truck/ Hydraulic Boom Lifting Truck/ Lifting Truck/ Hydraulic Lift Truck/ Working Platform