Low Price Diesel Used Zoomlion 37M Truck Mounted Concrete Boom Pump For Sale
37M truck-mounted concrete pump has 37m vertical reach with the height limit programmed to prevent boom contact with an obstruction or overhead hazard. The 37m concrete pump provides the users reliable pumping performance along with the highly wear resistant parts including delivery pipe, discharge port, transition bushing, concrete piston, wear plate, cutting ring and delivery cylinder that improve the pumping efficiency and reduce down time.


>>> Description
One Button Stabilization Technology
The one button stabilization technology quickly dampens any boom movement resulting from repositioning the boom. This allows precise positioning of the end hose.
Boom Anti Vibration Technology
The boom anti vibration technology reduces vibration during pumping by 50% allowing less movement and greater control of the end hose.
Anti Overswing Technology
By adopting our new swing brake technology, the boom's overswing amplitude is reduced by 60%
Fault Self Diagnostic Technology
Continually monitors more than 200 aspects of the system during operation. Faults are displayed on the monitor. Review of the detected faults can reduce troubleshooting time by 70%.
Smart Boom System
--> One Button Boom Extend/Retract
Press upward on the boom extend/retract button to extend the boom or press downward to retract the boom automatically.
--> Coordinated Section Operation
The boom can be rapidly and accurately repositioned by coordinating the movement the first and second sections
Safety Technology
Boom Overload Protection Technology
Relief valves are mounted on the boom cylinder counterbalance valves. These valves will release pressure in the event of excessive boom load to prevent damage to the boom.
Hopper Screen Interlock Technology
As an operator protection measure, the pump will automatically stop when the hopper screen is opened.
Hydraulic Oil Level Monitoring
The oil level in the hydraulic reservoir is continually monitored. If the level drops below a preset level, an alarm will sound and the pump will be stopped to prevent damage to the hydraulic system.


>>> Specification
37m Mobile Pump Truck Technical Specification
Items
Unit
Model of Whole Truck
HX5292THB-37
Main Technical Parameters in Service
Theoretical Pumping Capacity
m3/h
150
Pumping Capacity Index
Mpa.m3/h
586
Theoretical Pumping Pressure
Mpa
8.5
Hopper Capacity
L
700
Feeding Height
mm
1370
Distributing Valve
S valve
Max. Distributing Radius
m
33.2
Max. Distributing Height
m
37.2
Max. Distributing Depth
m
24.3
Height of Distributing Boom When Stretched
mm
8450
Distance between Front Landing Legs
mm
6507
Distance between Rear Landing Legs
mm
6600
Distance between Front and Rear Landing Legs
mm
7179
Diameter of Conveying Pipe
mm
125
Length of End Hose
m
4
Rotary Range of Distributing Boom
365°
Number of Boom Sections
4
Rotary Angle of Each Boom Section
°
92/180/180/270
Remote-control Distance
m
200
Main Technical Parameters in Traveling Condition
Max. Traveling Speed
km/h
90
Min. Turning Radius
mm
8800
Brake Distance
m
7
Approach Angle
°
16
Departure Angle
°
11
Chassis Model
HOWO
ZZ5347V4647D1(EURO IV)
Wheel Base between the First and the Second Axle
mm
4600
Wheel Base between the Second and the Third Axle
mm
1350
Front Tread
mm
2022
Rear Tread
mm
1830
Max. Engine Power
kw
380HP (EURO IV)
Max Engine Torque
n.m
1350 (1100-1600r/min)
Max. Grade Ability
%
35
Fuel Consumption Limit
L/100km
34
Overall Dimension (L ×W× H)
mm
12000×2490×3850
Full-load Total Weight
kg
29000


>>> Pictures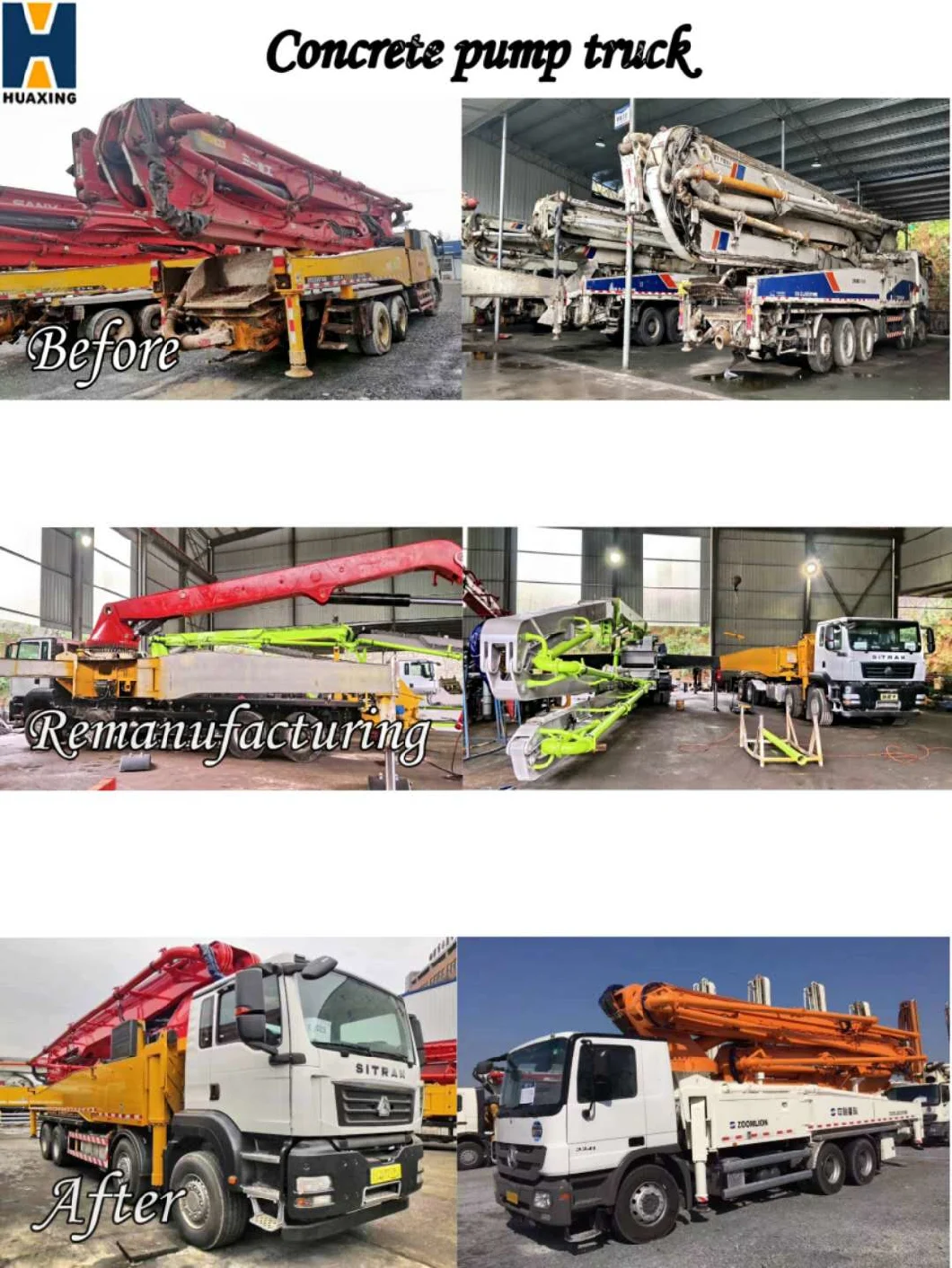 >>> Related products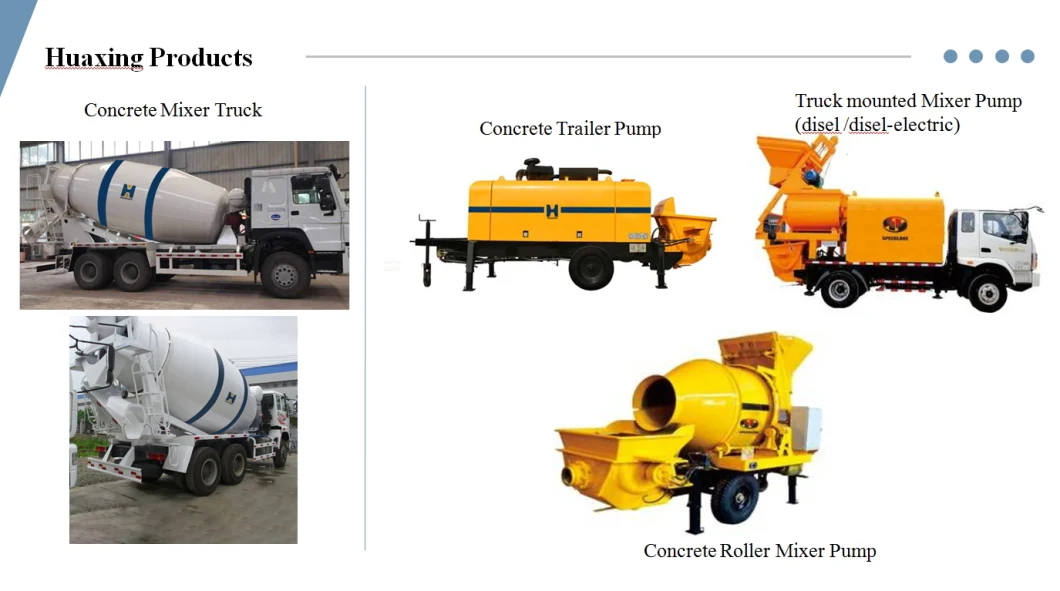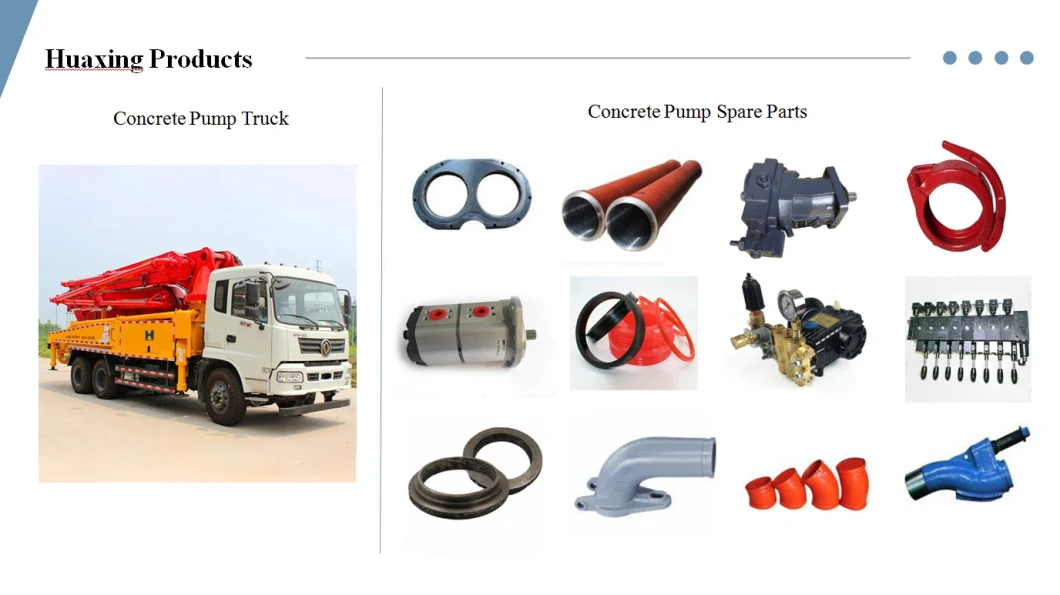 >>> Company Profile
Xiangtan Huaxing Material Co., Ltd, started business since 1991, and was formally established as a registered company in 2002, with 5.3million RMB registered capital.
Before 2015, Huaxing focused on the domestic market, and is a qualified supplier of Jianglu group and XEMC in the military and mechanical products.
In 2015, Huaxing set up the international marketing department, specializing in exporting concrete construction machinery, mining Roadheaders, and the related spare parts and accessories. With manufacturing bases in Shenyang, Suizhou and Changsha cities.
Huaxing owns branches "Cahi "in Kiev Ukraine, and "Speedlane Trade Limited" overseas company. Mainly export to Pakistan, Ukraine, Russia, and other EU countries and Southeast Asian countries under our own brands "Speedlane" and '' HUAXING''.
Huaxing has got the CE certificate, and Ukraine's Coal Mining Safety certificate and permission. Cooperated with Ukraine largest energy company, DTEK group, the world top 500, and established a long term and friendly partnership.
Huaxing's enterprise value: Striving, Loyalty, Honesty and Altruism;
Huaxing's work concept: Tomorrow never comes; Never slug; Deliver positive energy!
Huaxing's mission:
One Stop Shop in engineering construction machinery;
China Machinery, Global Services!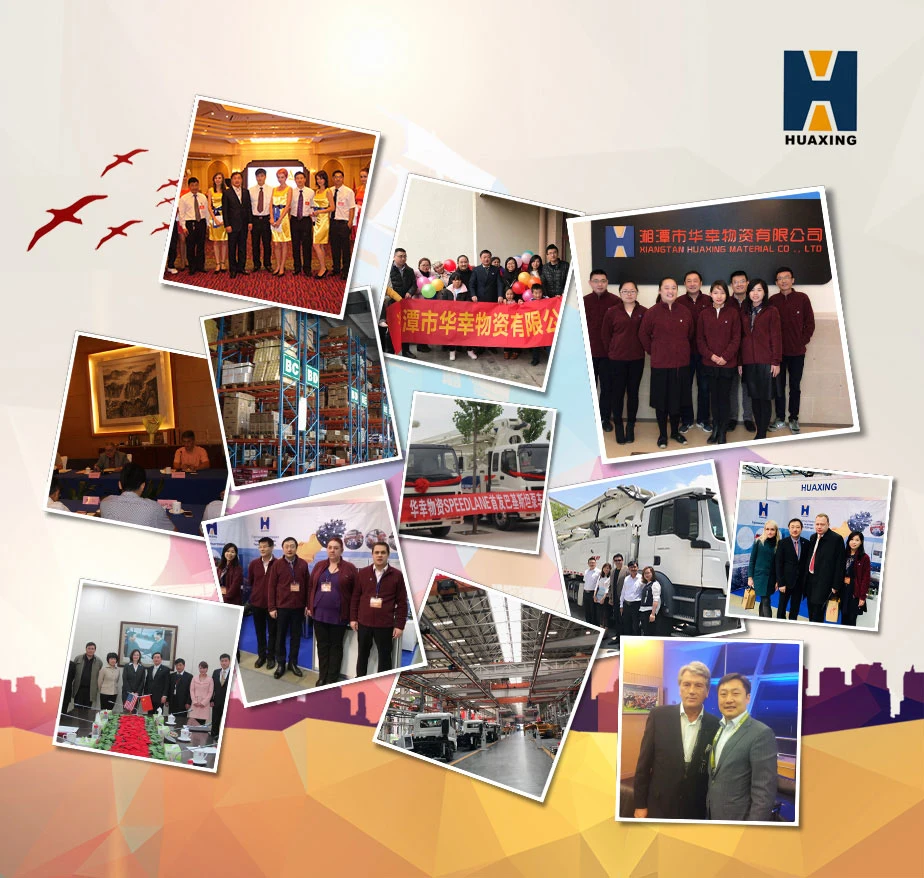 >>> Certificates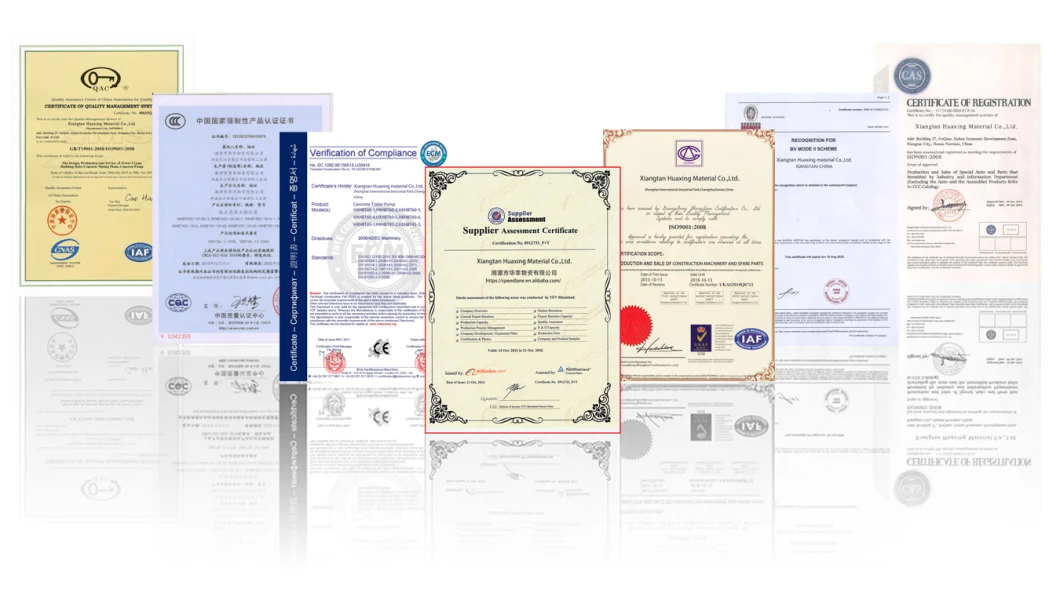 >>> Successful cases