Concrete mixer truck
Hongda TIELISHI brand concrete mixer truck is very famous and popular in China and other coutries in the world.

Capacity available 8m3, 9m3, 10m3, 12m3, 14m3 and 16m3

Main euipment and parts:
Chassis: HOWO, STYER KING
Rudction box: Italy Bonfigliol
Hydraulic pump, motor: USA Eton
Oli cooler: Chines (imported filter element) with vacuum metre
Rubber tube, joint: Italy Manuli
Riding wheel bearing: Germany FAG
ROTARY DRUM: Drum and mixing blade made by Special good quality wear-resistant material B52JJ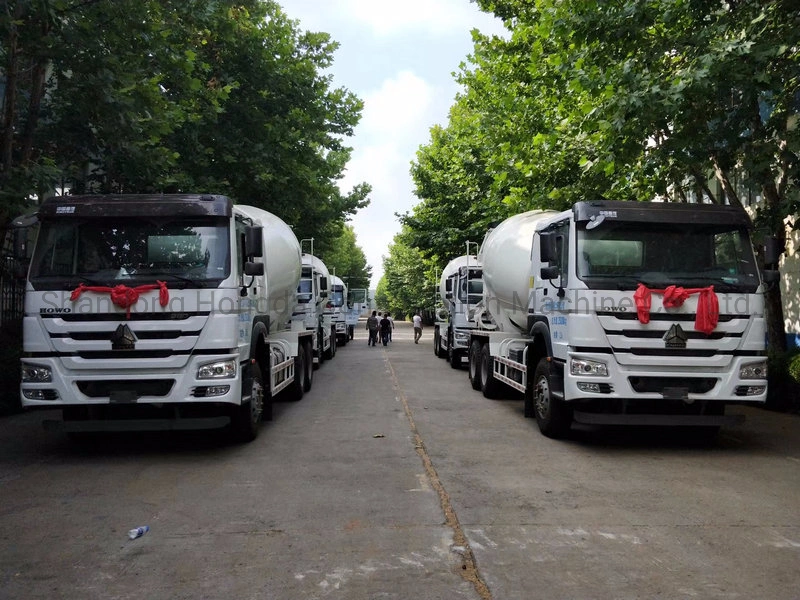 Concrete mixer truck parameters
Whole Vehicle Performance & Parameters

Items

Unit

Parameters

16m 3 (HOWO-8*4 Chassis)

Model

HDT5313GJB (16375)

Total Length

mm

10850

Total Width

mm

2496

Total Height

mm

3980

Chassis Model

HOWO-ZZ1317N3667C1

Total Vehicle Weight (Standard)

Kg

31000

Curb Weight

Kg

16600

Wheelbase

mm

1800+3600+1350

Front Tread

mm

2022

Rear Tread

mm

1830

Front Overhang (mm)

mm

1500

Rear Overhang (mm)

mm

2600

Min. Turning Diameter (M)

m

11.5

Max. Traveling Speed (km/h)

Km/h

90

Steering Mechanism

ZF8098(German)

Gear Box

HW18709




Engine

Oil Consumption per 100 km
(under limited conditions)

L

≤31

Model

WD615.95, WD615.96, WD615.95E, WD615.96E

Type

In-line 6-cylinder, Water-cooled, Supercharged, Inter-cooled, Electric (Direct) Injection Diesel Engine

Max Power

KW

375HP (2200r/min)

Max Torque

N.m

1350;1500

Max PTO Torque

N.m

600(1100-1400r/min)

Emission Standard

China III, Euro III

Working Device

Geometric Volume of Mixing Drum (m 3 )

M 3

24.1M 3

Max Mixing Cubage ( m 3 )

M 3

16

Mixing Drum Obliquity

°

10°

Mixing Drum Rotating Speed

r/min

0-14

Feeding Speed (m 3 )

M 3 /min

≥3.5

Discharging Speed (≥m 3 )

M 3 /min

≥1.5

Slump

mm

100~230

Leftover Rate

%

Nearly Zero

Water Tank Capacity (L)

L

260

Max Mixing Drum Diameter (mm)

mm

φ2412mm

Water Supply Mode

Water Pump; Pneumatic Pump
Concrete mixer truck
1. The rotary drum driving system adopts original imported America and Germany closed circuit hydraulic system: Pump, motor and reduction box. Hydraulic parts such as oil tank, radiator, filter, hose connector all adopt imported parts in order to ensure hydraulic system with long using life.

2. Rotary drum body and helical blade all adopt B520JJ single-purpose special fine crystal particle hard wearing steel plate from Shanghai BAOGANG while the easy wearing positions having much contact with concrete such as feeding and discharge bucket chutes, etc. Are also stuck with hard wearing steel plate, which correspondingly give the product rather long using life.

3. Multiple mixing arms are set in rotary drum while square and round holes are scientifically arranged in mixing vanes, which both realize real three-dimensional mixing work of concrete with discharge surplus nearly achieving zero and with concrete eduction greatly avoided.

4. Mobile discharge chute can be locked at 4 different positions to achieve discharge operation in different directions.

5. The whole truck adopts blasting and baking finish to produce an elegant and pleasing outline with such advantages as smooth and reliable slewing, speedy discharge, low surplus rate, handy operation, and long using life.

6. Rotary drum rack made by (140/120*80) 16Mn rectangle steel tube; Use three-dimensional lineation equipment and three coordinate lineation equipment to precess the rack before welding to truck; Laser test assure the accurate install position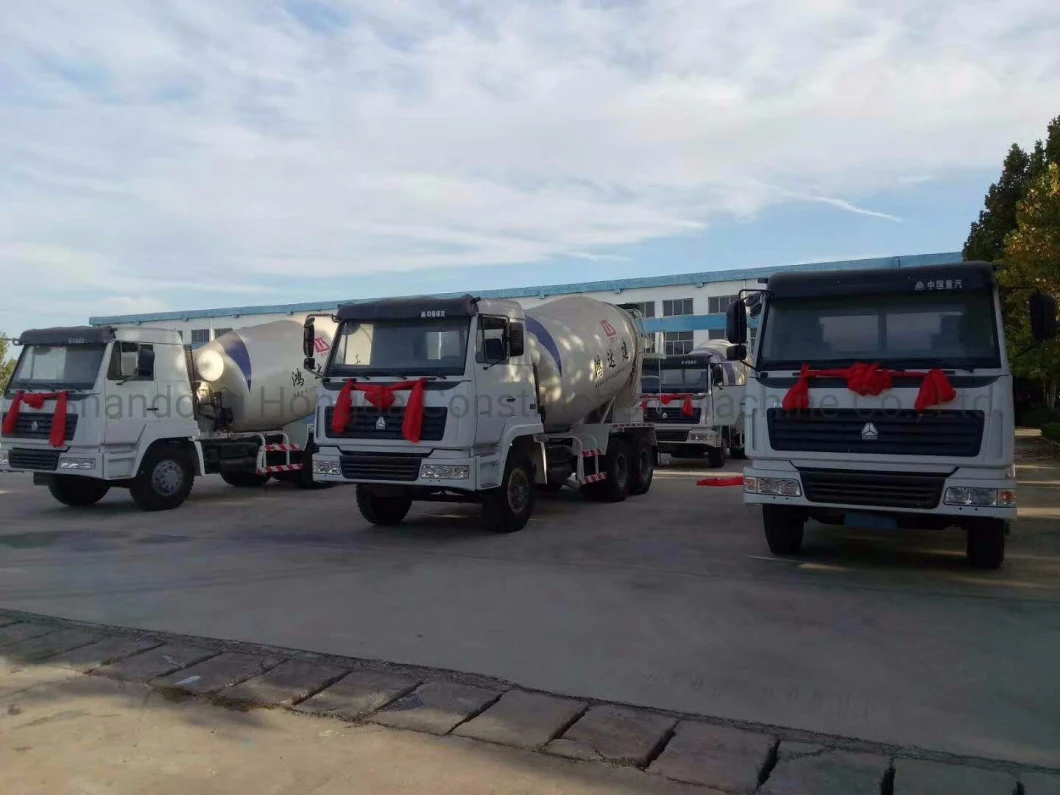 Applications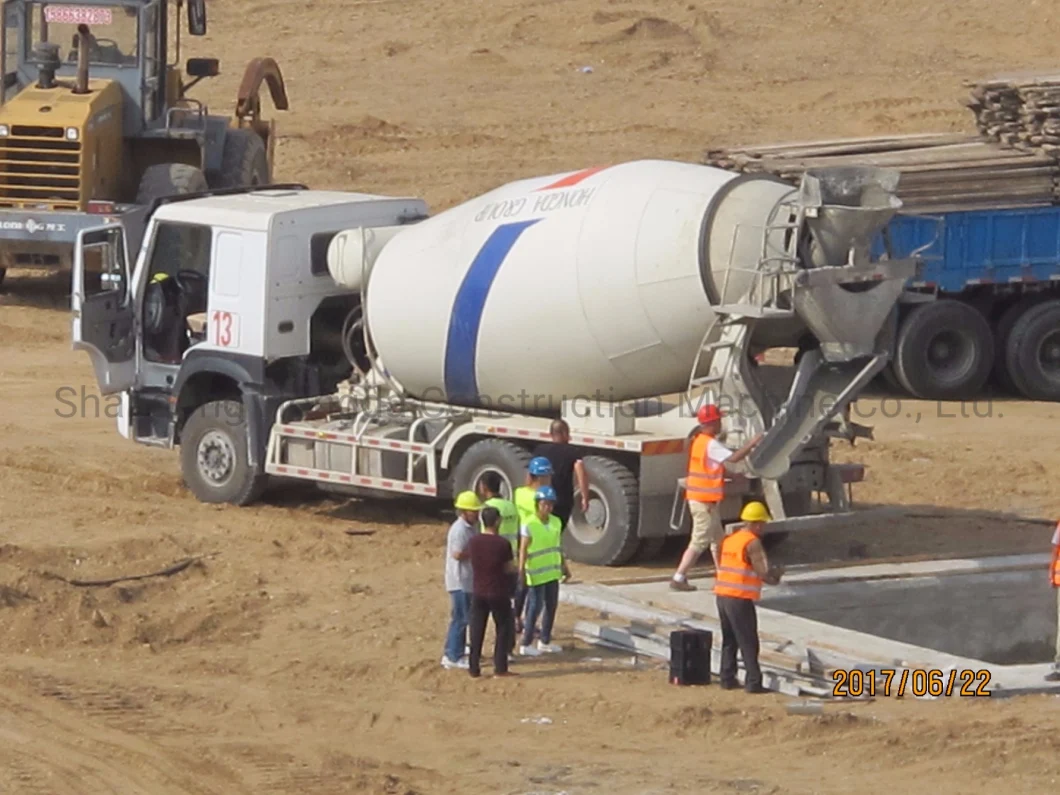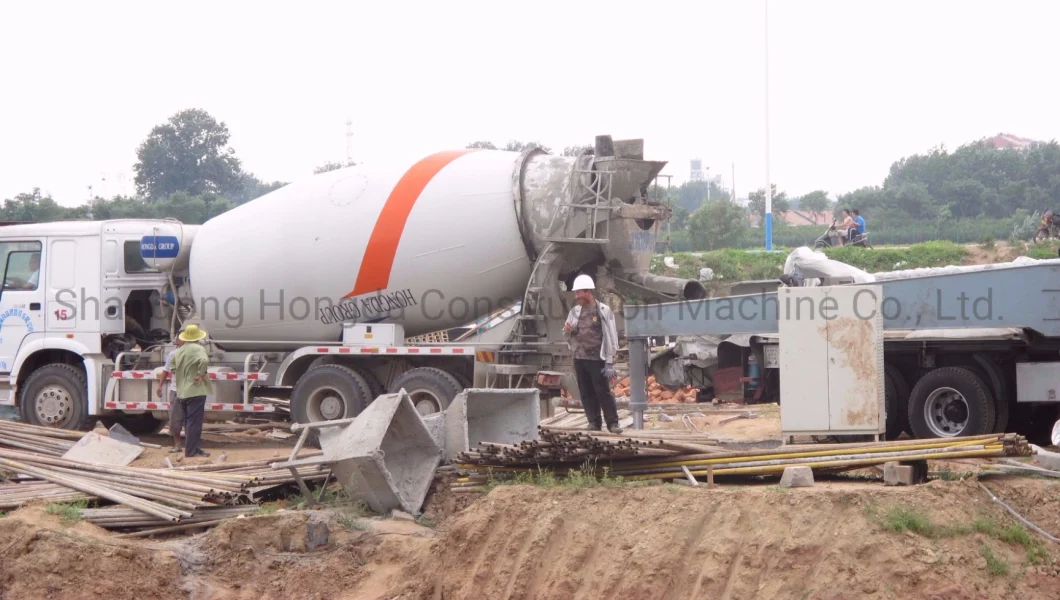 Company Profile
Shandong Hongda Construction Machine Co., Ltd is a very famous tower crane manufacturer with more than 30 years history.
Hope our product will make your work easier, save your money and time!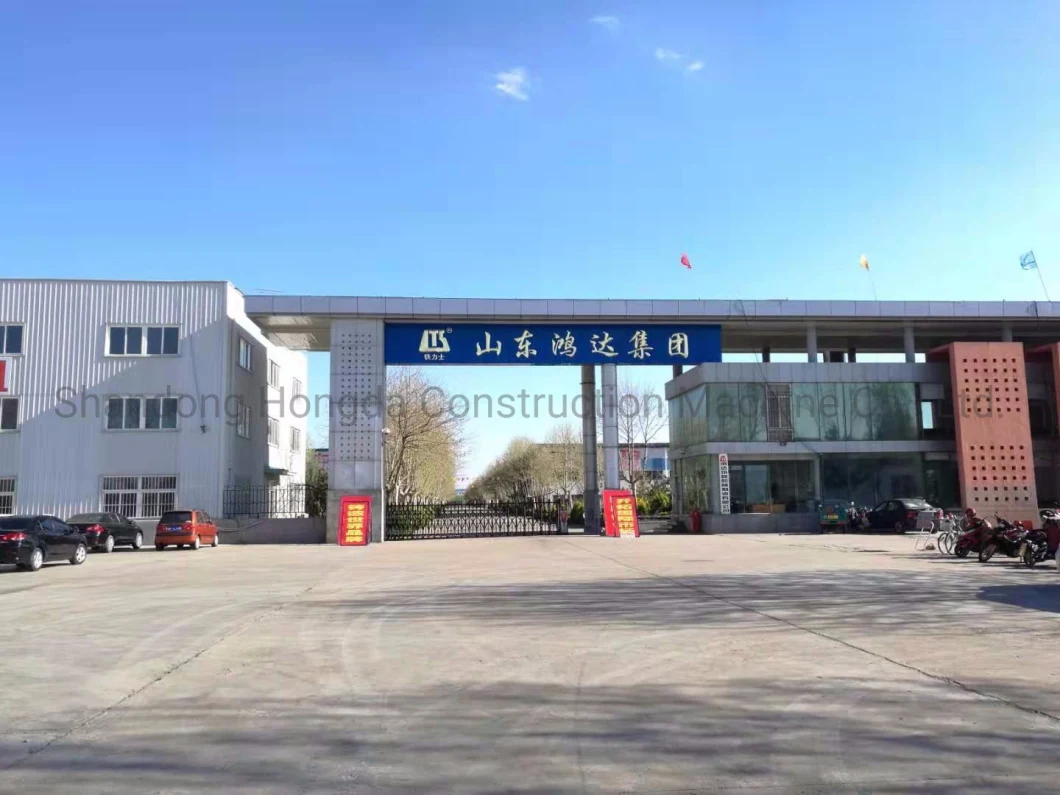 Product quality certification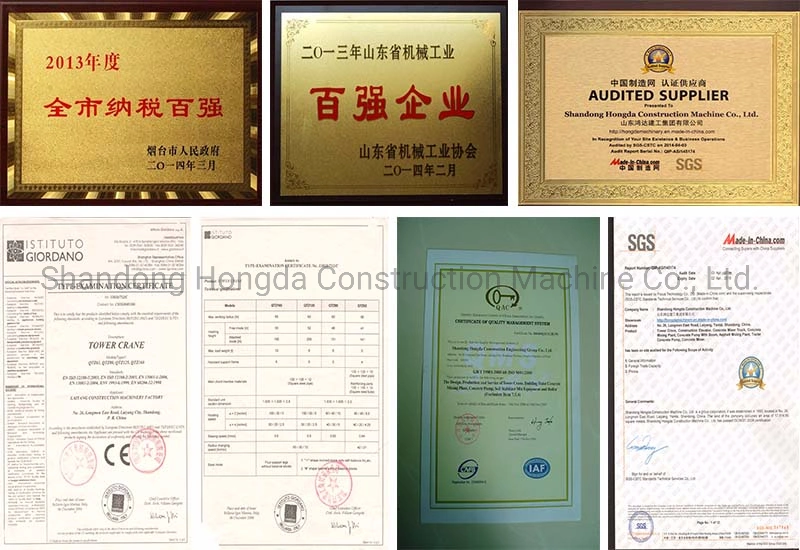 Logistics transportation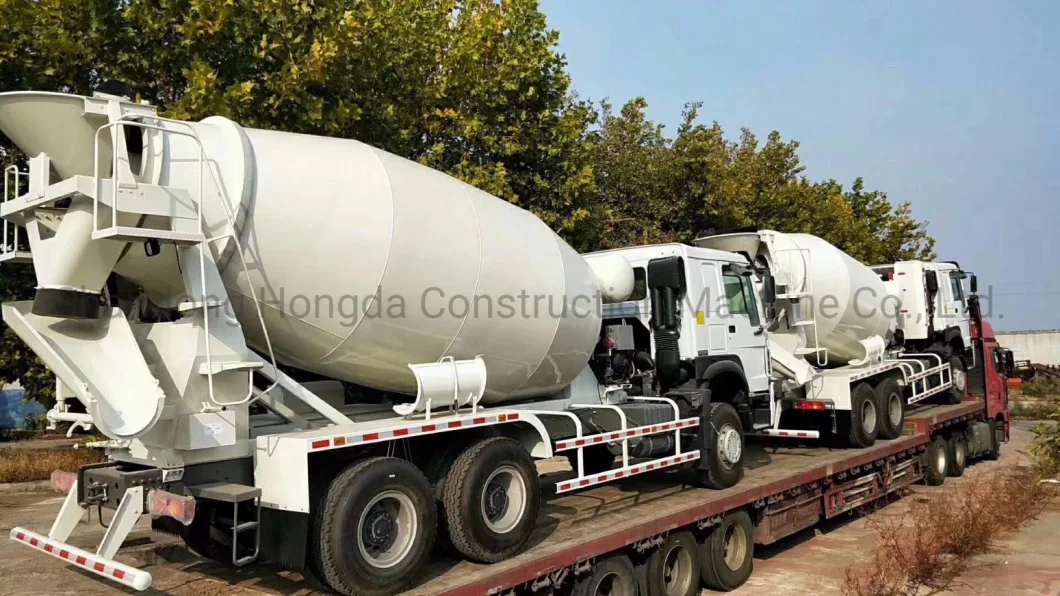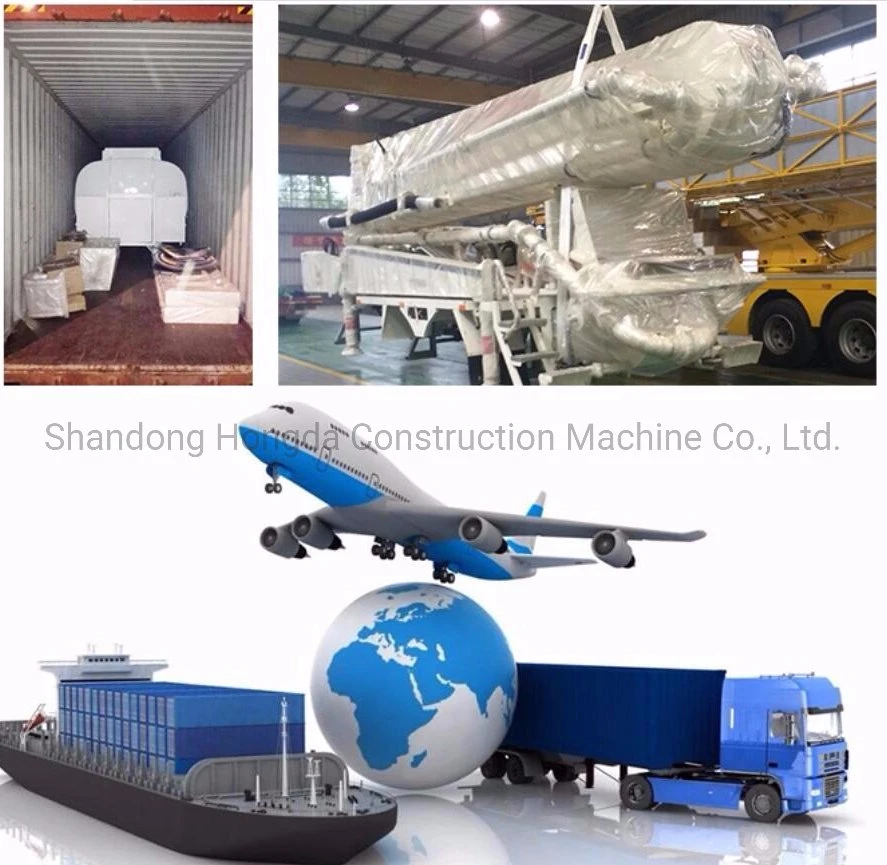 FAQ:
1: Are you the original manufacturer?
Yes, we are the leading manufacturer of concrete mixer trucks.

2. What kind of payment terms?
T/T, L/C, D/A, D/P, Western Union are available.

1. The minimum order quantity?
The minimum order quantity is one unit.