Rexroth Pump A4vg Used in Concrete Pump Truck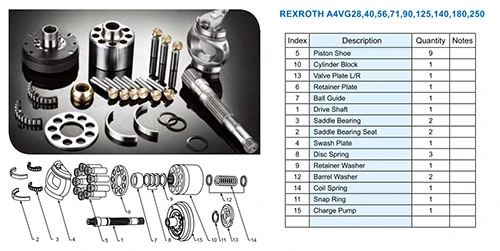 Meantime, we have the hydraulic pump parts for above mentioned modles,like:

A4VG Series:
A4VG28, A4VG40, A4VG45, A4VG56, A4VG71, A4VG90, A4VG125, A4VG180, A4VG250;

A4VSO Series
A4VSO40, A4VSO71, A4VSO125, A4VSO180, A4VSO250, A4VSO355, A4VSO500;

A11VLO50, A11VLO75, A11VLO95, A11VLO130, A11VLO160, A11VLO190, A11VLO200, A11VLO250, A110VLO260;
A10VSO18, A10VO28, A10VO45, A10VSO71, A10VO100, A10VO140;
A8VO55, A8VO80, A8VO107, A8VO160, A8VO200
A2F series, A2FO sereis, A6V sereis, A7V sereis, A8V sereis, A4V Series, A6VM series etc.
BELOW IS OUR NORMAL PACKAGE FOR YOU REFERENCE:
PARTS PACKAGE:




REMARKS:
1.PRICE TERMS: EXW EX WORKS
2.QUALITY: 100% INTERCHANGEABLE WITH ORIGINS
3.WARRANTY: 6 MONTHS
4.DELIVERY TIME:
IN STOCK:2-3 DAYS
5.PRICE VALID : 30 DAYS

PHP is a professional supplier of different replacement Hydraulic pump,Hydraulic motor and Hydraulic pump parts for After-sales market.
We have:
One parts factory
One pump assy center with Repairing center
One sales center for Exporting and Domestic sales

Our business range is including the following brand:
Rexroth,Caterpillar,Kawasaki,Komastu,Sauer Danfoss,Eaton,Vickers,Denison,Parker,Hitachi etc.
All original manufacturers' name,part number and descriptions are used for reference purposes only.






FQA:
---Why do you choose PHP?
PHP is a very professional manufacture and supplier of replacement parts for hydraulic pump remanufacturing. PHP major technicians have 20 years experience. We are not only supplying products to you, but also providing you benefits and useful suggestion about pump maintenance.

---How about quality of products from PHP?
We always pay more attention about quality of our hydraulic pump parts from raw material to machining, especially heat treatment to control our quality and precision parts, 100% interchangeable with origins. Stable temperature and enough time heat treatment are strictly controlled by our staffs in workshop to make parts durable.

---What about delivery and service from PHP?
We offer all customers quick response about all inquiries every time. We stock plenty of spare parts, hydraulic pumps and hydraulic motors. If products you demanded in stock, we can delivery in 1-2 working days after your payment, In case the products you needed are not in current stock, we can prepare in 2-4 weeks after your payment for hydraulic pump parts, in 3-7 days for new hydraulic pump,hydraulic motors, in 15-20 days for rebuilt hydraulic pump,hydraulic motor.