Product Description
HB56 Truck-Mounted Concrete Pump is modern construction equipment for pouring concrete consecutively. It has features of good maneuverability, short preparation time, high efficiency, good construction quality, less pollution of the environment. It is widely used in large-scale infrastructure constructions such as bridge, electric power plant, steel works, water disposal plant and high-rise building constructions.
HB56 concrete pump adopts Hino FSIERV (6X4) threeaxle chassis, excellent power
performance and good economicsFront X type outrigger could operate on one side, and open semi-outrigger in narrow area. 5section RZ type folded boom needs small space for boom folding and unfolding. The main vehicle pumping adopts opened delivery technology, fully hydraulic reversing technology,
intelligent pumping damping technology, small pumping reversing impact. The concrete piston could withdraw automatically. The electrical system adopts PLC control with color display screen, showing the running parameters of the equipment. The application of the engine energy saving technology and trouble-shooting technology improves the economics, reliability and safety of the concrete pump
It is the first 40m concrete pump with threeaxle chassis in China, and the first machine adopting X type outrigger, and the first concrete pump adopting 5-section RZ type folded boom for 40-m level in China.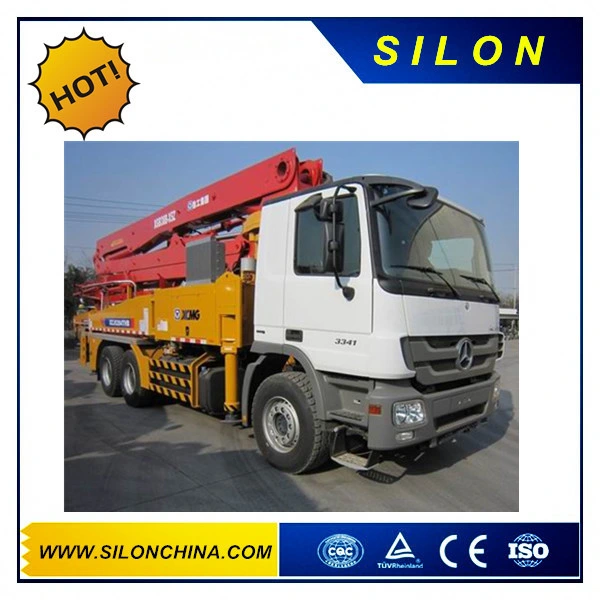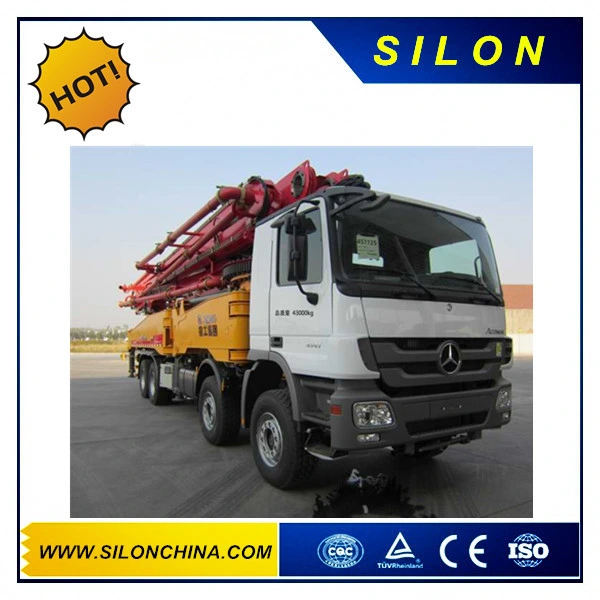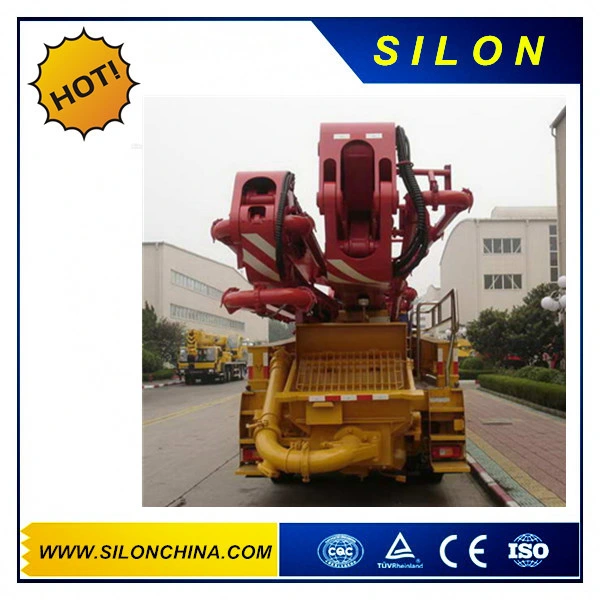 Technical Parameters
Travel

Category

Item

Unit

Parameter

Chassis

Model

FM440

Manufacturer

VOLVO

Max. speed

km/h

90

Max. gradeability

38%

Min. turning diameter

m

27.4

Brake distance

m

≤10

Wheelbase

mm

1995+5205+1370+1450

Tread (front/rear)

mm

2028/1872

Approach angle/departure angle

.

18/11

Min. clearance

mm

270

Tyre specification

12.00R20

Engine

Model

D13

Output power

kw/(r/min)

324/1400~1800

Max. torque

N.m/(r/min)

2200/1050~1400

Displacement

l

12.8

Emission Standard

Nation III GBIII

Others

Dimension (Length×Width×Height)

mm

14885×2500×3990

Total vehicle weight

kg

49750

Fuel tank capacity

l

410

Fuel consumption per 100km

l/100km

50

Pumping operation

Pumping system

Theoretical output(high pressure/low pressure)

m

3

/h

100/163

Concrete pumping pressure(high pressure/low pressure)

Mpa

13/8

Theoretical pumping times(high pressure/low pressure)

/min

13/21

Max. diameter of pumping concrete aggregate

40

Feeding height

1530

Placing boom

Pumping slump range

12-23

Reach height

55.7

Reach depth

44

Slewing radius

51.7

Slewing angle

364

1st boom stretch angle

96

2nd boom stretch angle

180

3rd boom stretch angle

180

4th boom stretch angle

180

5th boom stretch angle

260

Outrigger span

Overall outrigger span

11250±50

Front outrigger transverse span

11400±50

Rear outrigger transverse span

11300±50

Others

Dosing type

S valve

Lubricating method

Automatic lubrication

Controlling method

Manual/remote control

Water tank capacity

700

Max. pressure of water pump

2